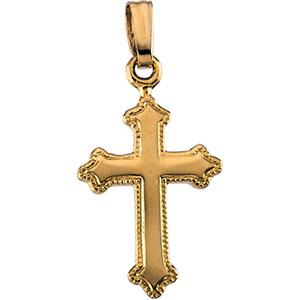 Cross Pendants
Wearing a cross pendant is a beautiful symbol of Christian faith. Most cross pendants are available in gold, silver and platinum. The designs of crosses vary from simple to ornate. Cross jewelry can be paired with a chain for a complete necklace, while many Sterling Silver crosses come with chains included.
Shop for Cross Pendants.
Crucifix Pendants
Like cross pendants, Crucifix Pendants feature a cross but they also feature what's known as a "corpus," or the image of Jesus on the cross. A crucifix pendant is a sign of faith and a message to the world that you know and value the redemptive suffering of Our Lord. There are many different crucifix designs in gold, silver and other metals.
Shop for Crucifix Pendants.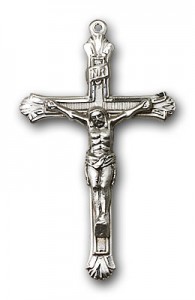 Baptism Jewelry
When a baby gets baptized, or anyone for that matter, it is usually customary to bring a gift to the baptism, or, as it's sometimes called, the Christening. Baptism jewelry makes the perfect gift for such a momentous event. Baptism medals come in a variety of sizes and most of them are small for babies. Many of them can be engraved.
Shop for Baptism Jewelry.
Confirmation Jewelry
Confirmation is a big deal in some Christian denominations. It marks an entry into adulthood that is carried out in a sacramental way. Confirmation jewelry makes a wonderful lifelong gift to commemorate the big event.
Shop for Confirmation Jewelry.
First Communion Jewelry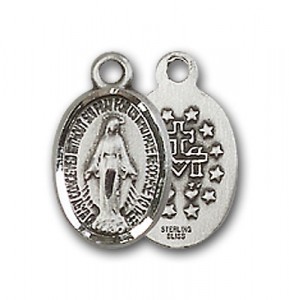 Some Christian denominations take First Communion very seriously, and it is customary to bring a gift to a First Communion gathering. Luckily there are numerous First Communion jewelry options including pendants and engraved religious medals.
Shop for First Communion Jewelry.
Angel Jewelry
No, we're not talking about jewelry for angels. Many people believe in angels, and for good reason: according to the Bible, they exist! Shop for angel jewelry to show your guardian angel that you're aware.
Shop for Angel Jewelry.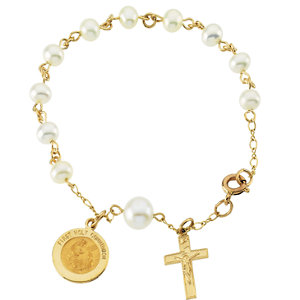 Religious Bracelets
Wear your faith on your wrist. There are plenty of fashionable Christian bracelets available in a variety of different materials. Many are handmade.
Shop for Bracelets.
Religious Lapel Pins
Wear your faith with a subtle religious pin. Lapels pins with Christian imagery are available in gold, silver and other materials. Some even have diamonds.
Shop for Religious Lapel Pins.
Religious Patriotic Jewelry
If your faith coincides with your support for the USA, then a nice patriotic or military medal might be the perfect piece of jewelry. The armed forces are represented in silver and gold.
Shop now for Religious Military Jewelry.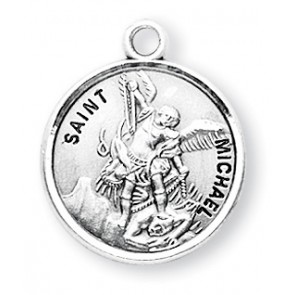 14K Gold Jewelry
Gold is a beautiful material for jewelry. A lot of different religious jewelry is available as 14K Gold Jewelry.
Sterling Silver Jewelry
One of the most popular forms of religious jewelry, Sterling Silver is an affordable and durable option. See some of the available Sterling Silver Jewelry.